AHIF Announces New Publication
THE FIRST VICTORY

Greece in the Second World War
by George C. Blytas

The American Hellenic Institute Foundation (AHIF) is pleased to announce the release of its publication THE FIRST VICTORY: Greece in the Second World War by George C. Blytas published jointly with Cosmos Publishing.

It provides a sweeping account of the role Greece played during the Second World War. Greece's seven-month resistance between 1940 and 1941 against the invading armies of Italy and Germany established the first Allied victory and became an inspiration to freedom-loving countries everywhere. Using intricately detailed descriptions and maps, Blytas recounts the events that preceded the Second World War and unfolds the diplomatic and military developments that cemented Greece's role in securing the first victory.

From battles on the Albanian front to resistance against the German forces, Greek tenacity forced Hitler to delay his invasion of the Soviet Union, a factor in Hitler's defeat on the Eastern Front. Blytas draws on a comprehensive bibliography, historical archives and numerous interviews to illustrate the local conflict within a broader international context. The author achieves his goal, fortifying his argument with a sincere and sympathetic assessment of the Greek contribution to the first victory of the Second World War.

THE FIRST VICTORY: Greece in the Second World War is available in hard cover, 600 pages with 24 maps and 43 pictures. ISBN 978-1-932455-19-9; Price: $39.95 plus $7 for postage and handling. AHI members receive a 25% discount—$30 plus $7 postage.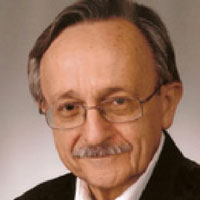 George Blytas was born in Cairo, Egypt, where he graduated from the Greek Gymnasium while the Civil War was raging in Greece. He first pursued a career in music and was instrumental in establishing a branch of the National Conservatory of Greece in Cairo. Political events in Cairo and the Middle East during the mid-1950's prompted a mass exodus of European professionals, and a change in his career plans. In 1956 he joined the graduate school at the University of Wisconsin, Madison, where he obtained his doctorate in Physical Chemistry and Chemical Engineering in 1961. Upon graduation, Dr. Blytas joined the research department of a major oil company for a distinguished 39-year career in California, the Netherlands and Texas.
Reviews
"…he has brought to this narrative a breadth, a depth, and a balance that is so often missing…" 
—from the Foreword by Robin Higham, Professor Emeritus of Military History, Kansas State University and Author, Diary of a Disaster, British Aid to Greece, 1940-1941 (1986). 

"This book tells a story that every student of 20th century world history should know about a courage little country that changed the course of history. Better still, it is a great read!"
—Governor Michael Dukakis

"Each year, new books appear in bookstores which chronicle the exploits of men, units, or governments during World War II. Seldom do authors take on the immense task of telling the story of an entire nation's efforts to defend their territorial integrity, national sovereignty, and democratic principles against the neighboring Axis." George Blytas has written a passionate tale in First Victory, providing the reader with new insights into the ideological, logistical, and military aspects of Greece's efforts to remain independent of the assault from Italy and Germany during WWII.
Relying on new archival documentation, Blytas has provided the English speaking public with a richness of detail, prose and analysis which enables the reader to comprehend the many nuances of decision-making which permeated 1940s Greece. His account of the struggles of the Greek people in the 1940-1941 period of their history is highly recommended."
—Ron Milam, Assistant Professor of History at Texas Tech University 

"George Blytas has produced an extremely valuable and unique, overarching account of Greece's involvement in the Second World War. It offers a most readable blend of military and political history based on a wide range of secondary sources as well as personal accounts of survivors from that period. His work highlights Greece's remarkable performance in confronting the Axis forces both during the country's involvement in the world war, when it heroically repulsed Italy's attack before succumbing to the Germans, and its subsequent resistance movement against the occupying forces. George Blytas combines an eye for detail in discussing a particular battle with an awareness of the broader domestic and international context and manages to compose a consistently engaging narrative. It is an evocative yet dispassionately written account that should appeal to readers interested not only in modern Greek history but also in the history of the Second World War in Europe and the Mediterranean.
—Alexander Kitroeff, Associate Professor of History at Haverford College.

"George Blytas's book brings Greece's heroic and pivotal role in WWII to the forefront. Few people realize that Greece's defeat of Mussolini's forces in 1940 was "The First Victory" against Axis forces in World War II and forced Hitler to invade Greece and delay his Operation Barbarossa against the Soviet Union, a key factor in Hitler's failure to defeat the Soviet Union. 
—Gene Rossides, Founder of the American Hellenic Institute and Editor, Greece's Pivotal Role in World War II and its Importance to the U.S. Today (2001)

Please click here if you would like to order one copy online via Paypal.

Please click here if you would like to order more than one copy or via check (90KB PDF).

The American Hellenic Institute Foundation, Inc. is non-profit Greek American educational and research organization and is the first "think tank" devoted exclusively to the study of the issues confronting the Greek American community.

###


The American Hellenic Institute is a nonprofit public policy organization that works to strengthen relations between the United States and Greece and Cyprus, and also within the American Hellenic community.